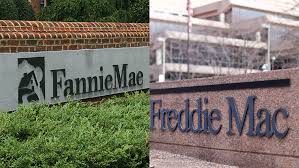 Bill Rapp here with the Heartfelt and Hot in Houston Blog, and this is our newest segment: US-Treasury to change mortgage-finance!
The U.S. Department of the Treasury released a plan to reform the housing finance system Thursday it says is designed to protect American taxpayers against future bailouts. The government spent $190 billion taxpayer dollars bailing out the Government sponsored enterprises or GSEs in 2008. They are the Federal National Mortgage Association (Fannie Mae) and the Federal Home Loan Mortgage Corporation (Freddie Mac). US-Treasury to change mortgage-finance!
Treasury says the new reforms preserve the 30 year fixed rate mortgage and, "help hard working Americans fulfill their goal of buying a home." Treasury Secretary Steven Mnuchin said in a press release, "An effective and efficient Federal housing finance system will also meaningfully contribute to the continued economic growth under this Administration." The Treasury Department report says, "While this plan includes both legislative and administrative reforms, Treasury's preference and recommendation is that Congress enact comprehensive housing finance reform legislation." The report strives to clarify the government's role supporting the housing market. "Stability in the housing finance system is crucial, and generally counsels in favor of preserving what works in the current system,including the longstanding support of the 30-year fixed-rate mortgage loan," it says. US-Treasury to change mortgage-finance!
Among the proposals Treasury recommends:
* Congress repeal the existing statutory definitions relating to the GSEs' regulatory capital that restrict FHFA's (Federal Housing Finance Agency) discretion in prescribing regulatory capital requirements and those definitions should not be incorporated into future legislation.
* FHFA's eventual regulatory capital requirements should require that each guarantor, or each GSE pending legislation, be appropriately capitalized by maintaining capital sufficient to remain viable as a going concern after a severe economic downturn and also to ensure that shareholders and unsecured creditors, rather than taxpayers, bear losses.
* FHFA's eventual regulatory capital requirements also should include a simple, transparent leverage restriction that supplements the risk-based capital requirements.
The GSEs remain in conservatorship more than 10 years since the first government bailouts. The Treasury plan recommends the conservatorship come to an end through recapitalization. The plan might have support from at least one former GSE insider. Edward Marco was the acting director of the Federal Housing Finance Agency (FHFA) from 2009 to 2014. In that role, he served as the conservator for Fannie Mae and Freddie Mac and he recently has proposed similar measures. In an interview on Yahoo Finance's On the Move last month, he said he's looking for reform to "shift all this risk off the back of the American taxpayers and back into private capital." He added "fundamentally, we're going to need Congress to decide what is the role of the U.S. government and the role of the taxpayer in the U.S. mortgage system." Treasury's plan says, "FHFA should prescribe liquidity requirements that require each guarantor, or each GSE pending legislation, to maintain high quality liquid assets sufficient to ensure it operates in a safe and sound manner." Secretary Mnuchin will head to Capitol Hill next Tuesday to push his plan at a Senate Committee on Banking, Housing, and Urban Affairs hearing entitled "Housing Finance Reform: Next Steps." Secretary Mnuchin will testify alongside Ben Carson, Secretary of the Department of Housing and Urban Development. US-Treasury to change mortgage-finance!
That is all for today folks from the Heartfelt & Hot In Houston Blog, make it a great day!
The inspiration for today's edition came from this original article: https://finance.yahoo.com/news/us-treasury-wants-to-change-the-way-your-mortgage-is-financed-210013028.html
If you are seriously considering moving right now you need to take action right now and talk to a reputable Real Estate & Mortgage Broker today, please call 281-222-0433 or visit:
https://www.zillow.com/lender-profile/BillRappMortgageViking/
https://www.billrapponline.com/
https://twitter.com/BillRappRE
https://caliberhomeloans.com/wrapp
https://onlineapp.caliberhomeloans.com/?LoanOfficerId=21493
http://www.HoustonRealEstateBrokerage.com
https://mortgageviking.billrapponline.com/
https://highcostarea.billrapponline.com/
https://commercial.billrapponline.com/
https://renovationvideo.billrapponline.com/
https://doctorvideo.billrapponline.com/
https://sba.billrapponline.com/
https://veteransvideo.billrapponline.com/
https://fha203h.billrapponline.com/
https://privatemoney.billrapponline.com/
https://rei-investor.billrapponline.com/
https://www.youtube.com/channel/UCsF3Rh4Akd1OAOAgTmzgqQg