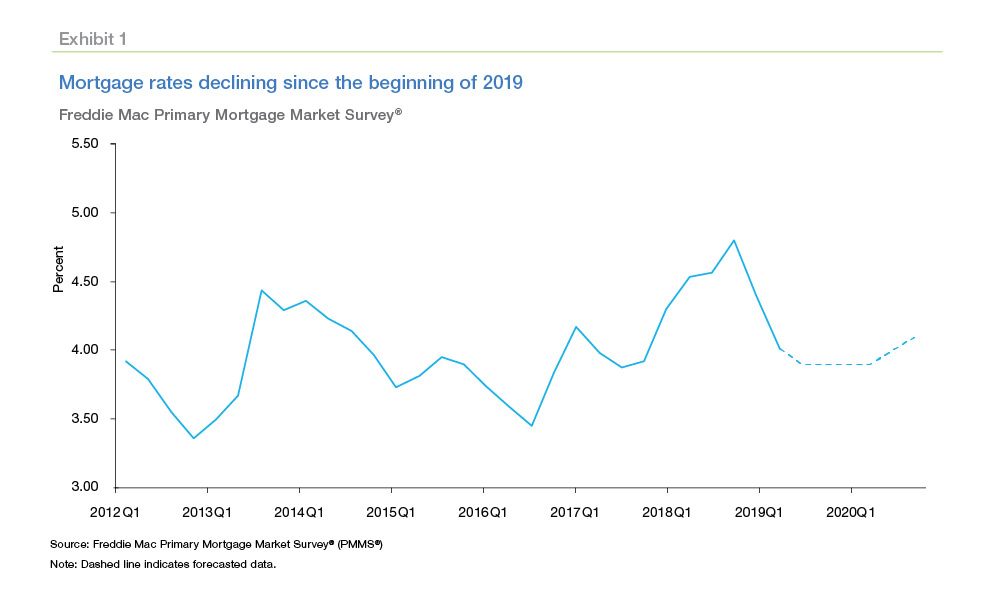 Bill Rapp here with the Heartfelt and Hot in Houston Blog, and this is our newest segment: Low-interest-rates help housing market!
The housing market is getting a much-needed lift from plunging long-term interest rates. But low rates may only be a temporary and artificial boost to the housing market. As recession concerns loom, interest rates have fallen to a level that's now stimulative for the U.S. housing sector. The average 30-year mortgage rate is around 3.6%, according to Freddie Mac data. This is the lowest level since November 2016. Low-interest-rates help housing market!
"We do expect lower rates to positively affect housing activity in the quarters ahead. Some leading indicators for housing, such as builder and consumer sentiment, have improved recently," Credit Suisse wrote in a recent research note. "We expect an imminent return to moderate but positive growth in the housing market. A recovery in housing is likely to provide a welcome boost to growth amid a global manufacturing slump." Since 2018, the 30-year mortgage rate has fallen more than 100 basis points. Credit Suisse estimates the recent move in rates would increase home sales by at least 5.0% in the next few months, pushing sales to 5.5 million — the highest since the first quarter of 2018. Low-interest-rates help housing market!
Mortgage rates have been coming down ever since the Fed put rate hikes on hold. "We expect the second half of year will be notably better than the first half in terms of home sales, mainly because of lower mortgage rates," said Lawrence Yun, chief economist at the National Association of Realtors (NAR), in an email. On Wednesday, the NAR reported that existing home sales rose 2.5% and 0.6% in July from a month earlier and same time a year ago, respectively. A reversal from a month earlier when sales declined. The positive results followed a bump in pending home sales, also a proxy for the future health of the housing market, which was up 1.6% in June, reversing a 17-month streak of annual decreases, according to the NAR. Pending home sales rose 2.8% in June from a month earlier, the second consecutive month of growth. The latest figures mark "the start of a positive trend for home sales," the NAR said. Low-interest-rates help housing market!
On top of that, the Fannie Mae Home Purchase Sentiment Index reached a new survey high in July, increasing 2.2 points to 93.7. According to that survey, folks are feeling more confident in buying and believe mortgage rates will continue to fall. Even homebuilders are feeling a little bit better about things. The National Association of Home Builders/Wells Fargo Housing Market recent measures of current sales and buyer traffic hit its highest levels since October. And despite what appeared to be weak new construction results for July, another leading indicator for the housing market — building permits — looks pretty promising. Total building permits rose 8.4% to a 1.34 million rate, beating analysts' estimates. The monthly increase was the largest in more than two years. Single-family permits rose for the third straight month in July and reached its highest level since November 2018. "To assure home price rise does not perk up too fast, a boost in new single family home construction is needed and welcomed in the current housing shortage environment," said Yun.
While things are looking up for the housing market by some measures, there's reason to be a bit skeptical about a recovery. Despite a deceleration in annual home price growth for the 14 months "prices have been reaching new heights" a trend that will likely continue from increased demand due to the ongoing shortage of inventory, particularly in the "starter" home category for first-time homebuyers, said Yun. Earlier this month, Realtor.com said the number of newly listed entry-level homes, priced below $200,000, fell 9.9% in July from the same month a year ago. We're not seeing enough housing being built in the starter market because "economics don't work," said Jonathan Miller, CEO and founder of real estate appraisal firm Miller Samuel Inc., referring to high land costs and an ongoing construction labor shortage. "Although builder confidence is high, the number of open construction jobs is also high, and the lack of skilled labor continues to be a constraint on the overall pace of building," said Mike Fratantoni, a senior vice president and chief economist at Mortgage Bankers Association (MBA), in a recent statement. Low-interest-rates help housing market!
That is all for today folks from the Heartfelt & Hot In Houston Blog, make it a great day!
The inspiration for today's edition came from this original article: https://finance.yahoo.com/news/low-interest-rates-give-housing-market-a-boost-144124709.html
If you are seriously considering moving right now you need to take action right now and talk to a reputable Real Estate & Mortgage Broker today, please call 281-222-0433 or visit:
https://www.zillow.com/lender-profile/BillRappMortgageViking/
https://www.billrapponline.com/
https://twitter.com/BillRappRE
https://caliberhomeloans.com/wrapp
https://onlineapp.caliberhomeloans.com/?LoanOfficerId=21493
http://www.HoustonRealEstateBrokerage.com
https://mortgageviking.billrapponline.com/
https://highcostarea.billrapponline.com/
https://commercial.billrapponline.com/
https://renovationvideo.billrapponline.com/
https://doctorvideo.billrapponline.com/
https://sba.billrapponline.com/
https://veteransvideo.billrapponline.com/
https://fha203h.billrapponline.com/
https://privatemoney.billrapponline.com/
https://rei-investor.billrapponline.com/
https://www.youtube.com/channel/UCsF3Rh4Akd1OAOAgTmzgqQg