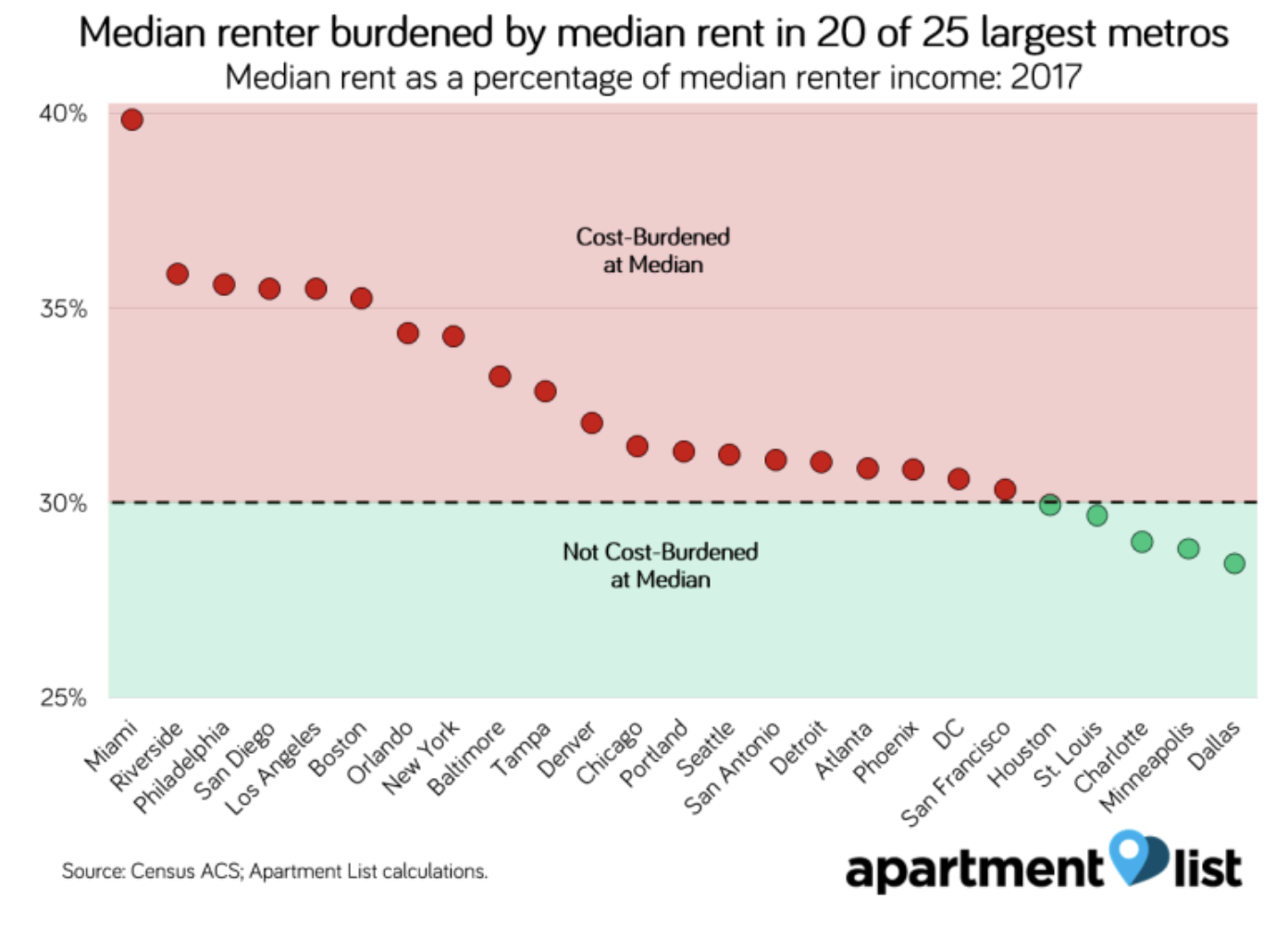 A new study by Apartment List took a look at the rate of cost-burdened renters in the US. The economy has experienced nearly a decade of expansion, but the gains of recent years have not been evenly distributed across the country's population. Virtually half of renter households are cost-burdened by the costs of their home, spending more than the recommended 30 percent of their incomes on rent. New data from the Census American Community Survey shows that the share of renters who are cost-burdened fell marginally from 2016 to 2017 from 49.7% to 49.5%.
The Houston metro is performing pretty good, with slightly decreasing cost burden rates. Below are some of the study's findings for Houston:
The cost burden rate in Houston decreased from 49.0% in 2016 to 48.4% in 2017. Houston has the #46 lowest cost burden rate of that nation's 100 largest metros.
24.1% of renter households in Houston are severely cost-burdened, while 24.4% are moderately burdened.
The number of cost-burdened renter households in Houston has increased by 104,083 since 2007.
While these statistics might seem less than ideal, Houston stacks up well compared to other large US metros. In fact, Of the 25 largest US metros, there are only five metros — Dallas, Minneapolis, Charlotte, St. Louis and Houston — where the median renter can comfortably afford the median rent.
While the study shows some marginal improvement, we have a long way to go ensure that all Americans can comfortably afford to put a roof over their heads. To see the full study, look here,
If you are considering moving right now you need to take action right now and talk to a reputable Real Estate & Mortgage Broker today, please call 281-222-0433 or visit:
https://mortgageviking.billrapponline.com

https: www.HoustonRealEstateBrokerage.com